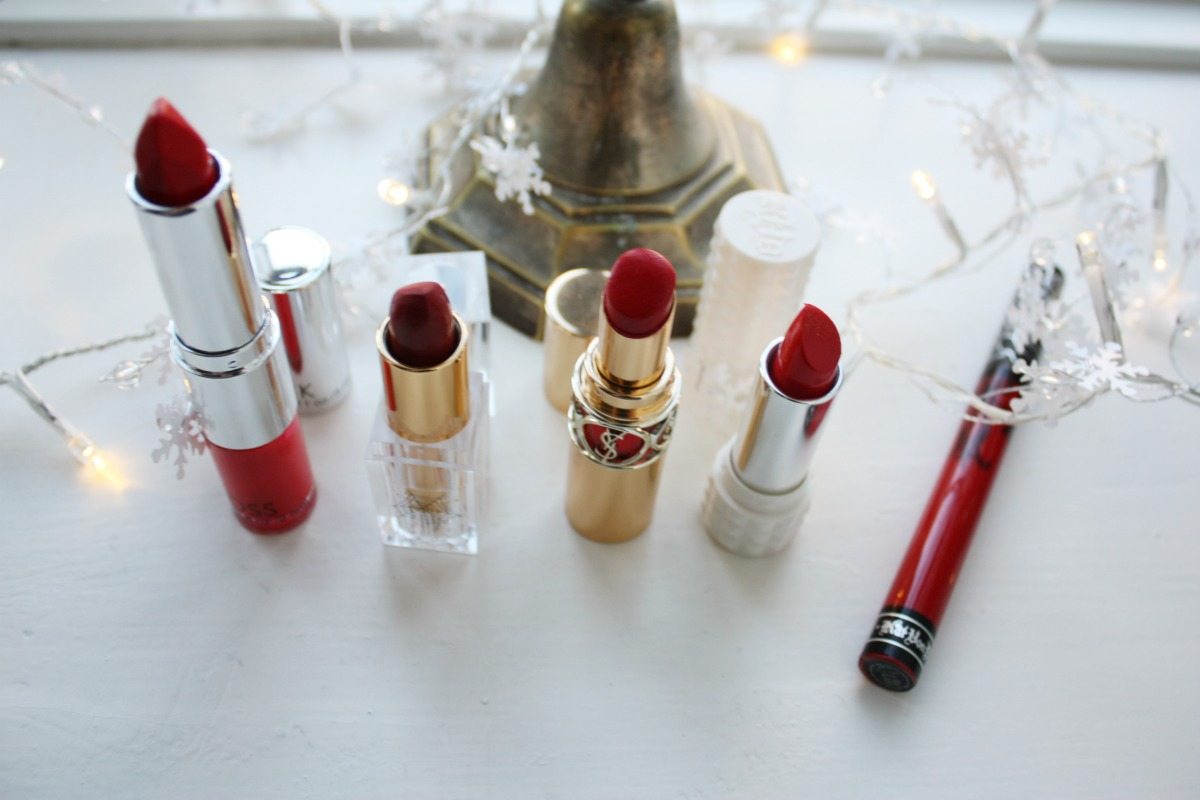 My Five Go-To Red Lipsticks

I think December is the month where a lot of red lipsticks gets to 'shine'. Red is after all a highly festive color and it is (in my opinion) perfect for Christmas lunches, brunches, dinners and parties. I always love a good red lip, and I definitely tend to grab my red lipsticks more frequently in December. I have about ten different shades of red lipsticks and I'd say these five are my current go-to lipsticks. They each offer something different, be it texture, shade or even wear. I must admit though that the one red lipstick I use most of all is the liquid one from Kat Von D, but that's probably down to my love for liquid lipsticks.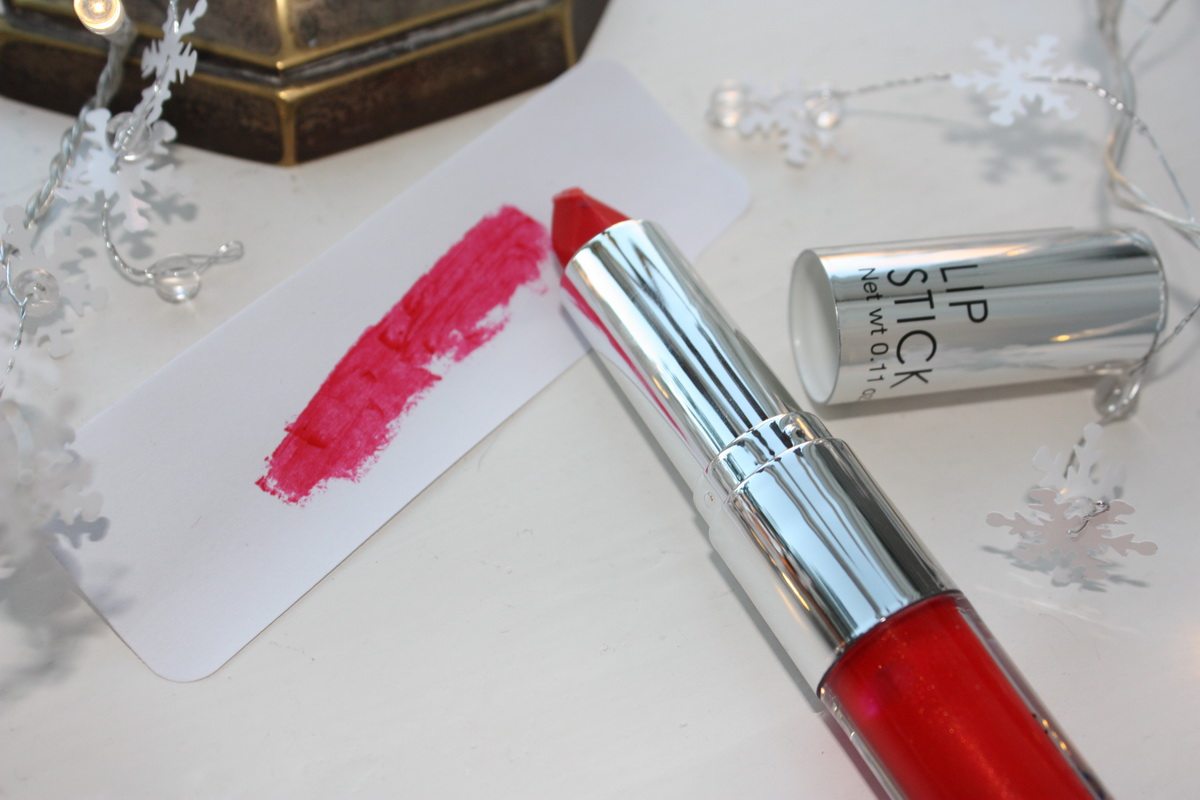 H&M Red Carpet Lipstick
I don't love this lipstick but I wanted to include it because I've used it a few times as I wanted to test it out. It's my only beauty product from H&M, and although it isn't the best formula I think it's alright. It feels very smooth on my lips, and it has a nice shine to it. It applies easily, but does not last long. It smudges a bit easily and it has a very strong smell of something I cannot quite explain. Those two latter facts aside I think it's a good cheap lipstick and I wouldn't mind trying some more of H&M's lip products. I don't think it is possible to buy this anymore.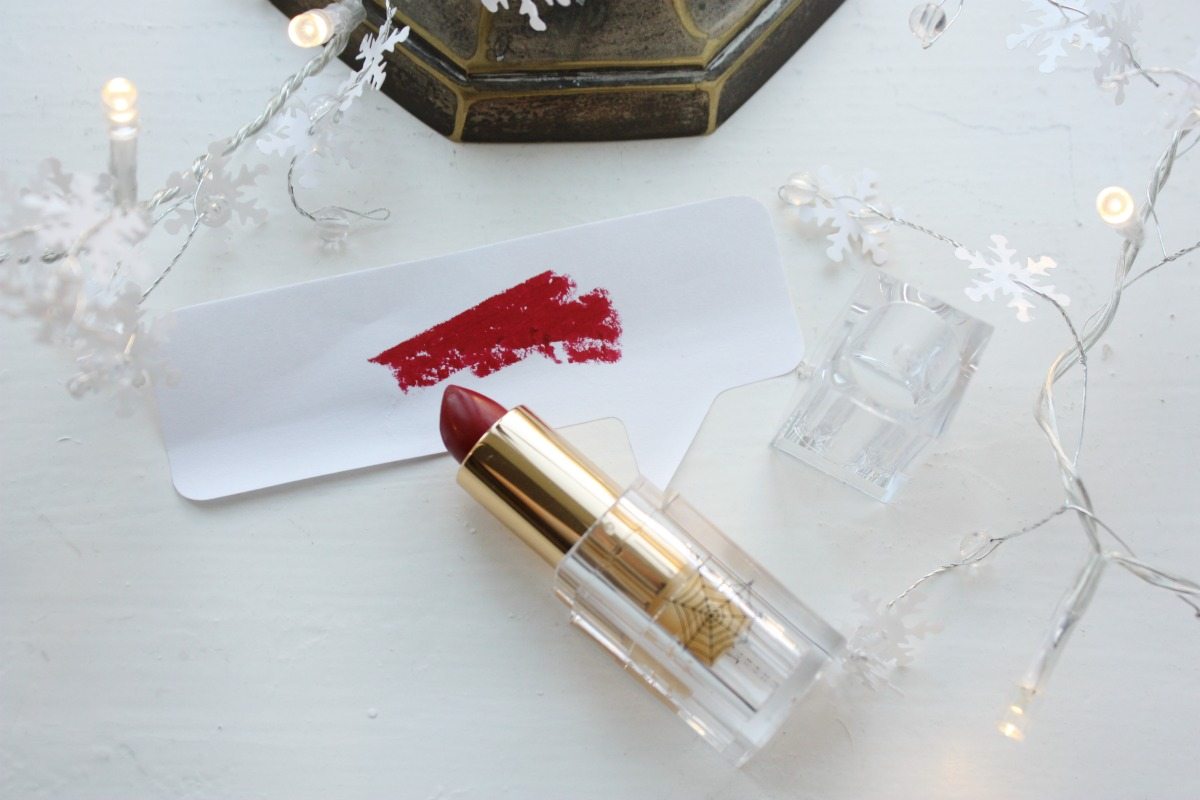 MAC x Charlotte Olympia: Leading Lady
I absolutely love this entire collaborations design, and i wish I had gotten the other lipsticks too. This one is a deep red semi-matte lipstick. It has cooler undertones and is almost matte, but not completely. It feels very smooth on the lips and it applies well. When I use it I do need to touch up a little bit after I've eaten, which I think is acceptable for any lipstick. It doesn't feel drying either which is a big plus! Unfortunately you cannot get this anymore as it was limited edition.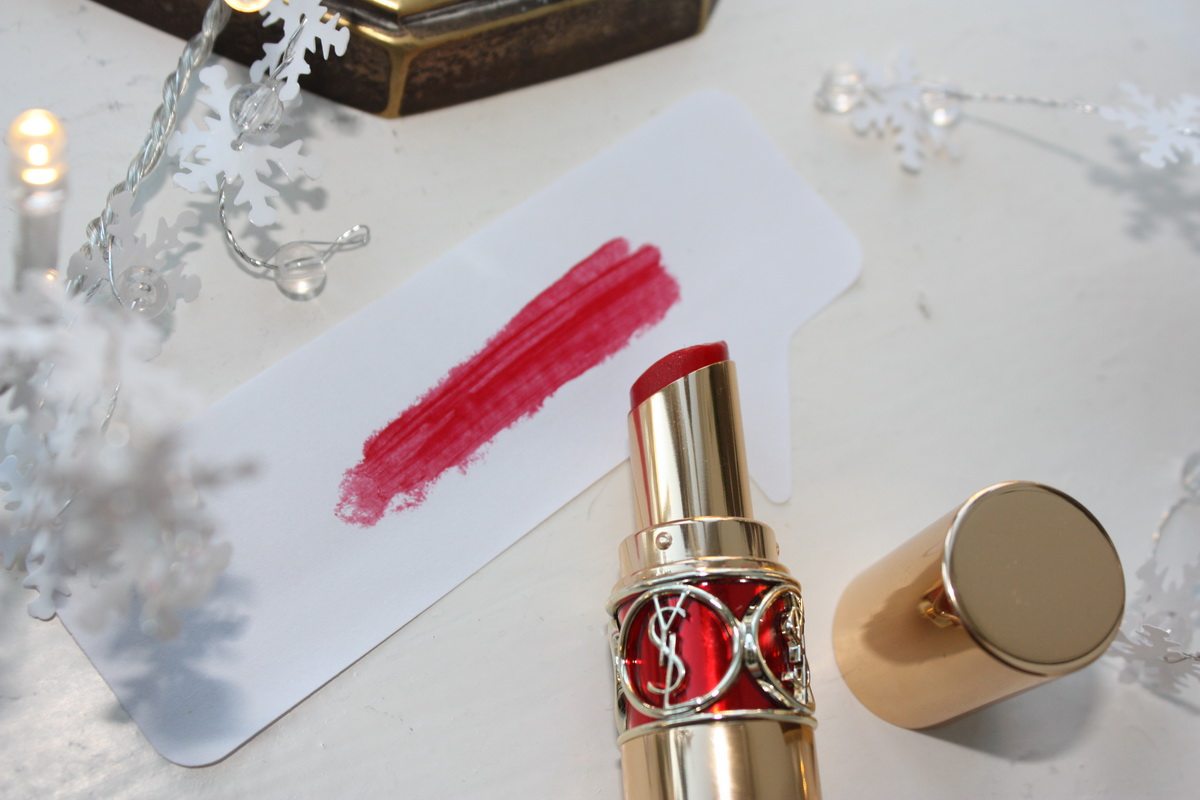 YSL Rouge Voulupté Shine: Rouge In Danger (4)
All of YSL's lipsticks have the most beautiful packaging. How can you not like that classic gold case? Well I for one love it. I've had this for quite some time and I really love the formula. It promises to be hydrating and feel comfortable, which it definitely lives up to. It also has a very pleasant smell and for a sheer lipstick it is really pigmented. The only minus about this lipstick is that it doesn't last that long and I've had to touch it multiple times during the day. But personally I don't mind that. This shade is part of the permanent collection and costs £27
Kat Von D Liquid Lipstick: Outlaw
This is such a perfect red lipstick, I absolutely love it! It is a brick red matte lipstick with warm undertones. It lasts pretty well through drinks and food, and applies easily. One thing I really like about KVD's liquid lipsticks is the fact that the applicator (or wand) is very long – it makes it easy to work with! It's part of her permanent collection and can be bought in Sephora for about £18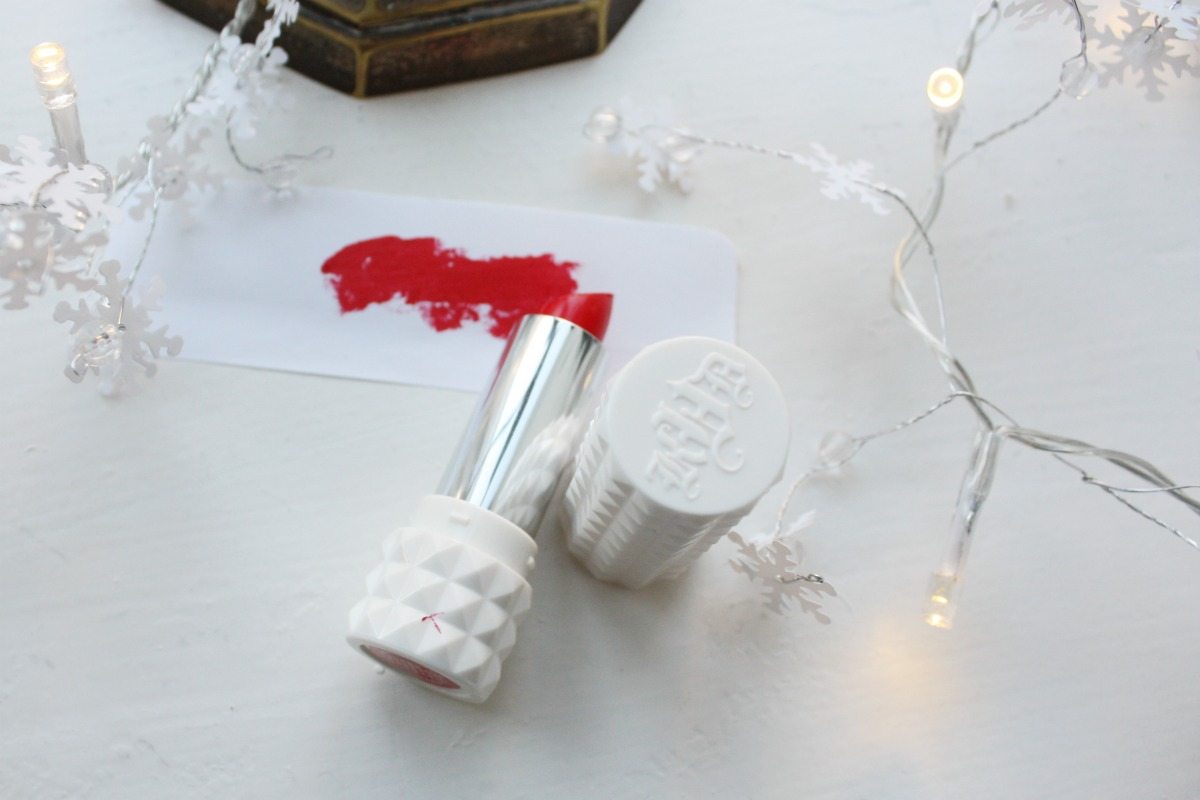 Kat Von D Studded Kiss Lipstick: Gold Blooded
This is such a beautiful lipstick. It has tiny gold specs mixed in the red color, which gives it a beautiful shine. It's a bright medium red and has warm undertones. It doesn't feel drying, and applies easily. It doesn't last that well after eating but it survives drinks. You unfortunately can't get this anymore as it was part of a limited edition set.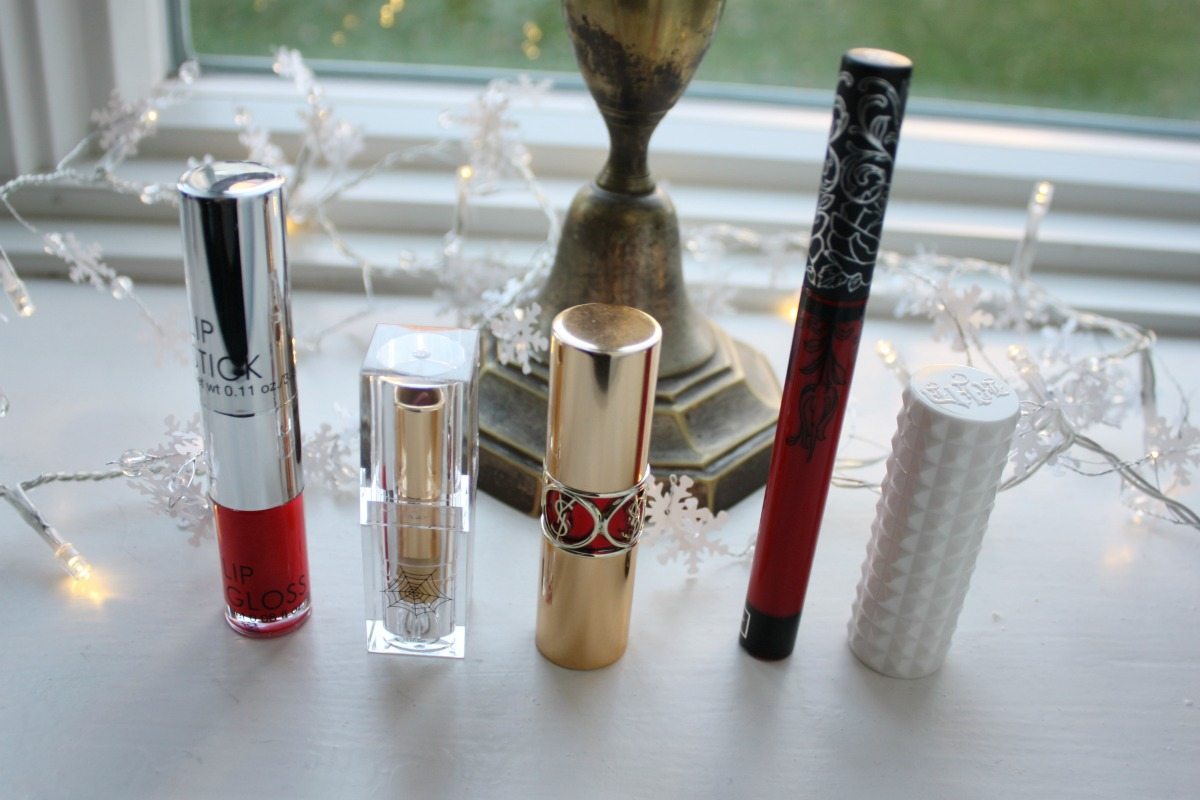 What are your go-to red lipsticks?
❤