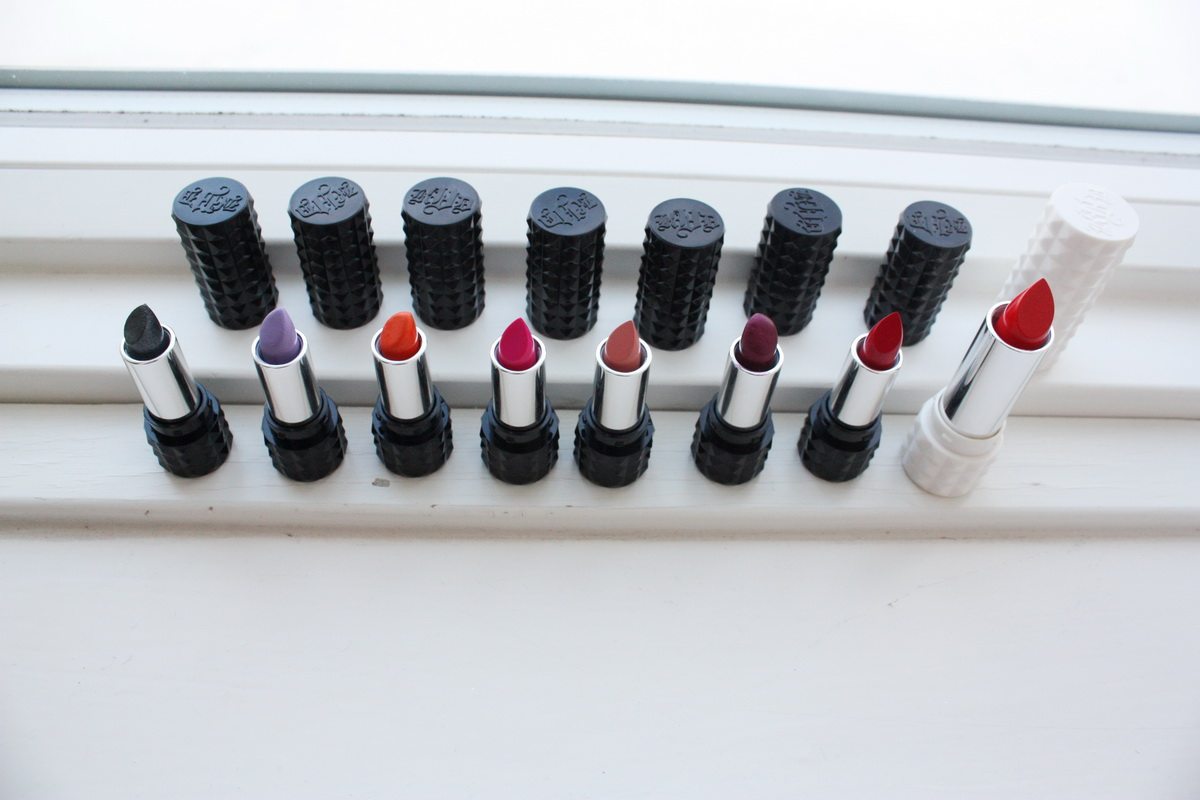 Although Kat Von D's Studded Kiss Lipstick's have been on the market for a few years now, I still wanted to share my opinion on it (or them). I've had these lipsticks for about two years now and as such I've tried them quite a fair amount of times. Most of the lipsticks I've got from Kat Von D were through a limited edition set called "Mi Vida Loca". Although you can most of the colors in her permanent collection, I found it to be a good way to get introduced to her formula. I also have a few other of her regular sized lipsticks.
The Studded Kiss collection has a color cushion technology that gives 10 hours of wear. The design of the lipstick case was made to look like one of Kat's favorite bracelet's. They have been formulated with vitamins A, E and C for antioxidants and hydration. You can get them in iridescent, matte, metallic and shimmery finishes. There are over 40 different shades to pick between, whereas I have 10 of them. The set 'Mi Vida Loca' came with seven mini lipsticks and one full-size limited edition color.
Overall I like Kat's lipsticks. I think it's a nice formula with a few exceptions. A couple of her lipsticks are a little drying such as the Nayeon shade. I do believe the formula has also changed (for the better) over time though. I absolutely adore her liquid lipsticks, and I will definitely review those at some point too. Do I think these ones are better than the liquids? That's a tough call as to me liquids are completely different than regular lipsticks. They're two completely different things although they serve the same purpose. I love liquid lipsticks because they last longer than regular ones – however, they are also more drying. It's a matter of opinion, but I like both her formulas. And in my opinion her liquid lipsticks are some of the best on the market. Are her studded kiss lipsticks the very best on the market? No, I don't think so. But they are really great!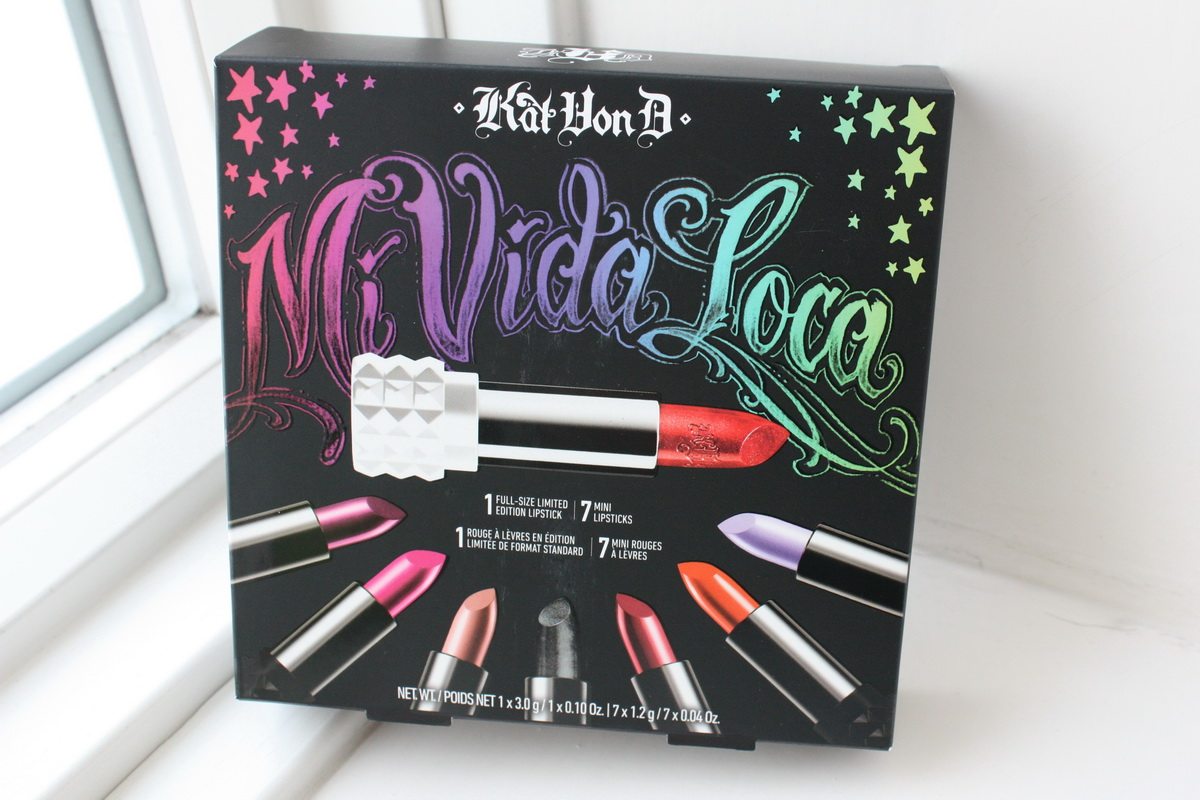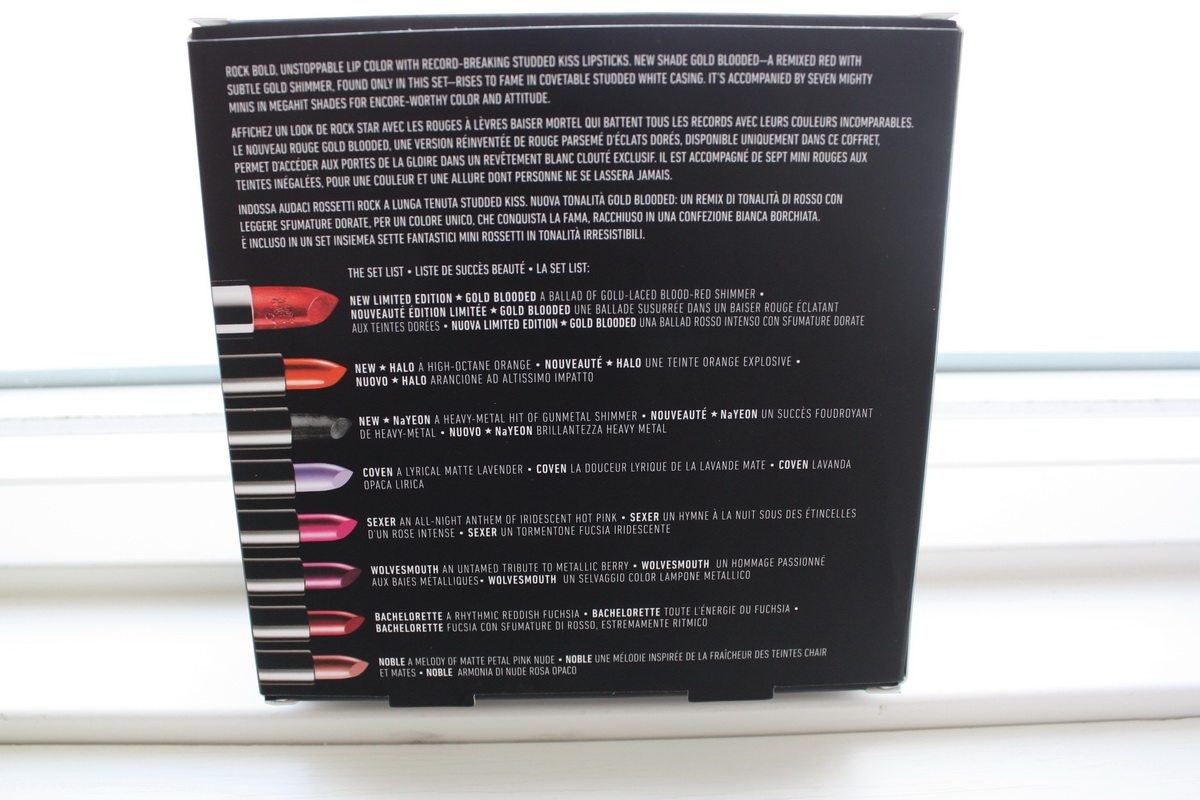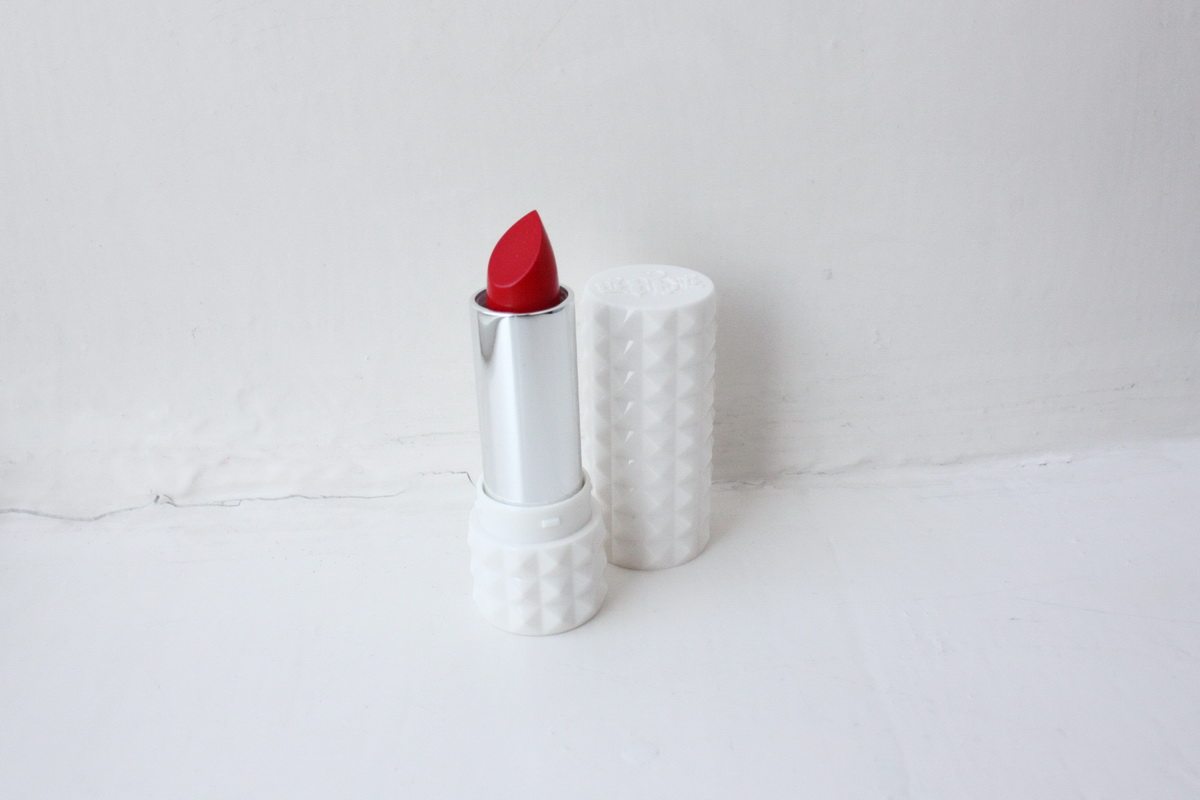 Gold Blooded.
This shade is described as 'a remixed red with subtle gold shimmer', which is a pretty on point description as you can see small specks of gold in the red lipstick. It's perfect for a night out or perhaps a Christmas event. It's one of my favorite red lipsticks that I own as it long lasting and feels smooth on my lips.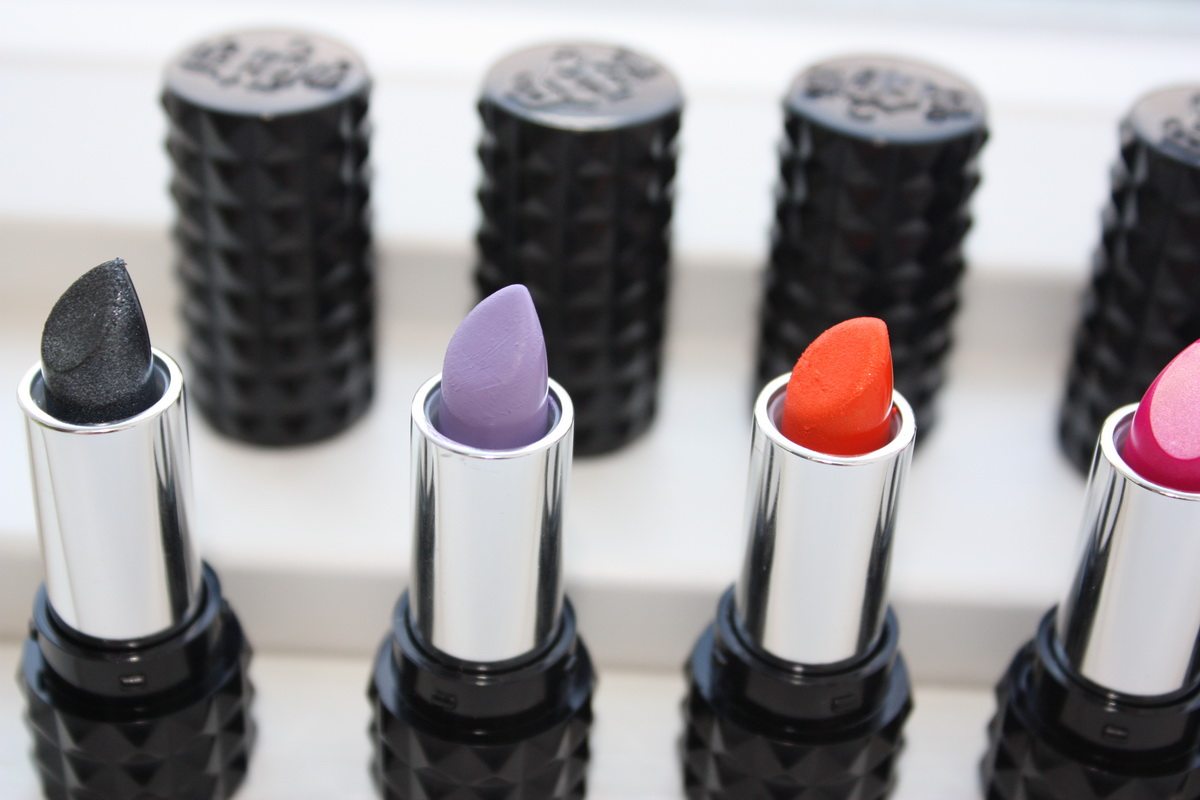 Nayeon.
It's described as 'pitch black with gun metal shimmer', which is pretty much what it is. It's not completely black as it has shimmer in it, and it feels a little rougher on the lips than the other shades due to the glitter it has in it. It's not your everyday shade but it's fun for some occasions.
Coven.
I kinda love this shade (although I've not worn it more than once outside). I think you have to be a certain kind of person to use it. I think it looks cool but it doesn't really 'go' well with everything. It feels fine on my lips and it's described as a 'matte lavender', which is pretty exact.
Halo.
This is an orange-red described as 'neon clementine'. It's a pretty cool summer shade in my opinion as it is 
very
orange and I think orange goes well with summer. The formula is fine comfortable on my lips, but the color is very bright and I've not used it outside more than once or twice.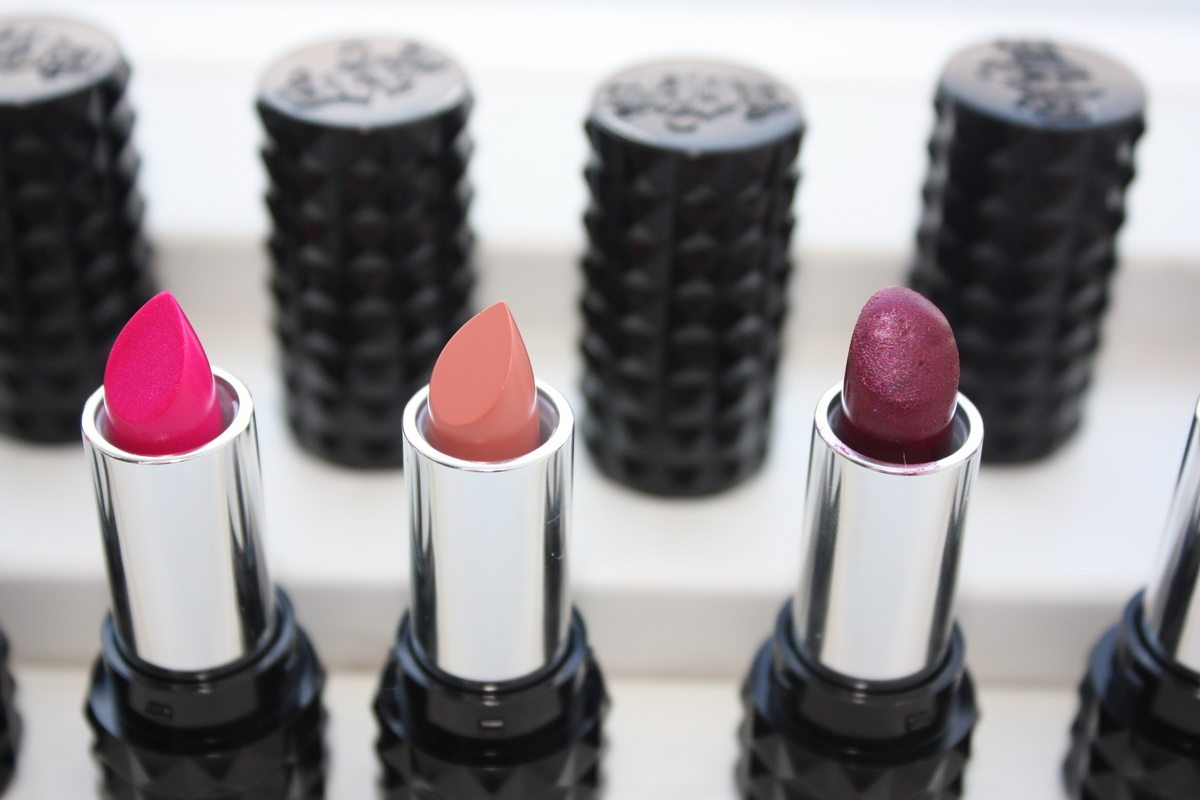 Sexer.
Now this baby is just beautiful. Perhaps my inner barbie-loving heart is weak when it comes to these kind of pinks, but I really really like it. It reminds me a bit of MAC's candy yum-yum. Sure it's not something I'd put on my lips everyday but once in a while it sneaks into my handbag.
Noble.
This beautiful nude peachy pink is one of my faves. It is described as a 'matte petal pink nude' and I think this is one of the prettiest ones of this mini set. I love nude lipsticks as they are perfect for everyday use. And I think the peachy undertones this shade has is really spring'ish.
Wolvesmouth.
This lippie is described as a 'metallic berry', and who doesn't love a good berry shade? My go to lip shades are usually nudes or berry's, or reds. I think the two latter goes really well with my dark hair. This shade is beautiful and the formula feels soft on my lips. Also, how cool is the name!?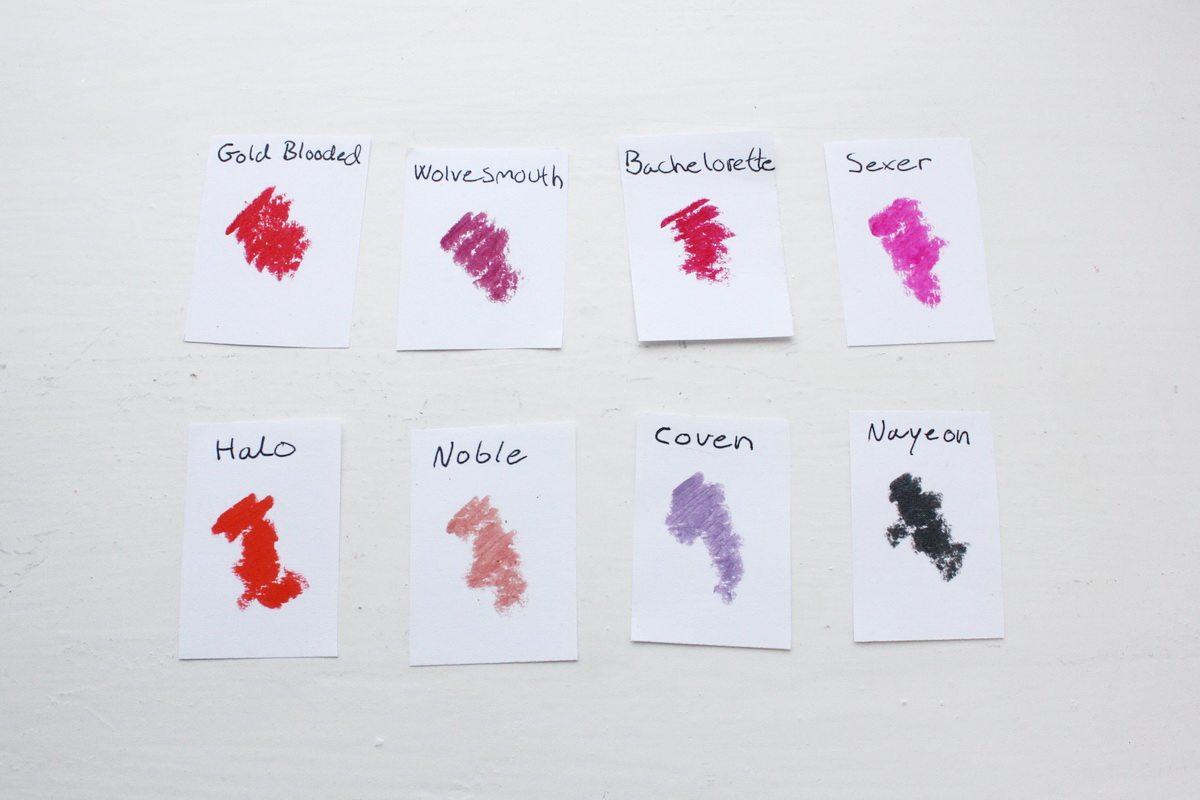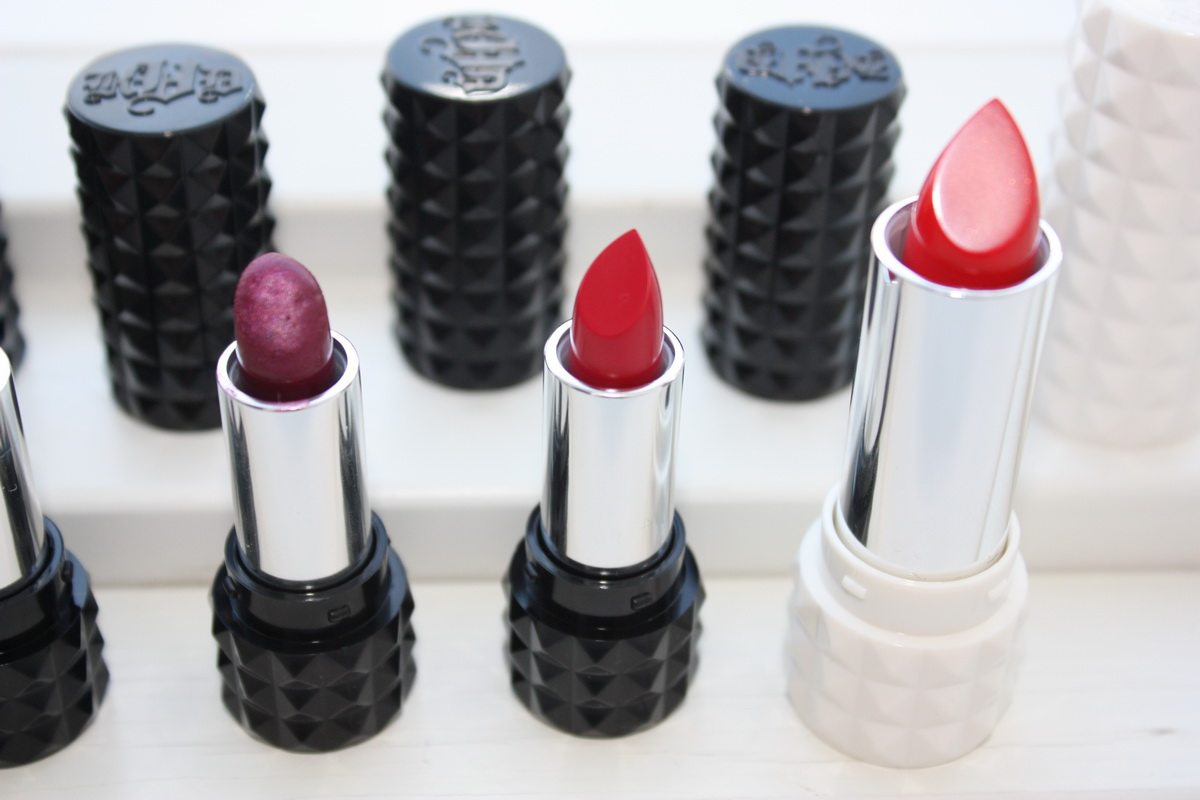 Bachelorette.
The last shade of the minis is this beautiful matte red fuchsia. It as some of the others also feels good on my lips and it's a shade that I've used a bit more. However, it doesn't stand out and it's a shade you can find in most other collections. I wouldn't buy this one in a full-size at least, then I think I would opt for another shade.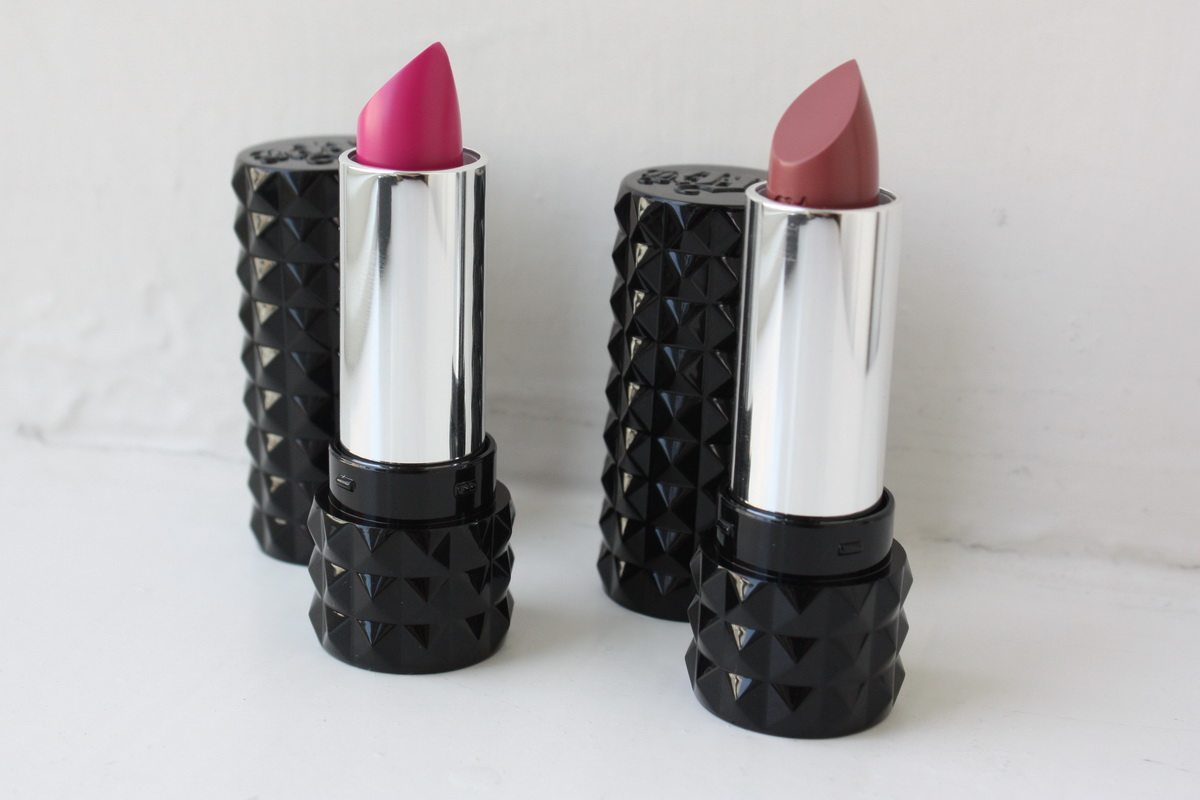 These two are the regular size shades I've got; Backstage Bambi and Lovecraft. Backstage Bambi sort of reminds me a bit of the shade Sexer above (and Candy yum-yum) but this one is matte whereas Sexer is iridescent. It is a very bright fuchsia with blue undertones. Like I said above, I've got a thing for bright pink shades like this one and I really like this one too. Lovecraft is my favorite out of all the studded kiss lipsticks. It is the perfect nude color and I've used it many times! It is a beautiful matte rosy pink shade with warm undertones. Its pigmentation is really good and it applies really well too. If you want to invest in just ONE of her shades, I'd pick this one!
Have you tried Kat Von D's studded kiss lipsticks? 😃