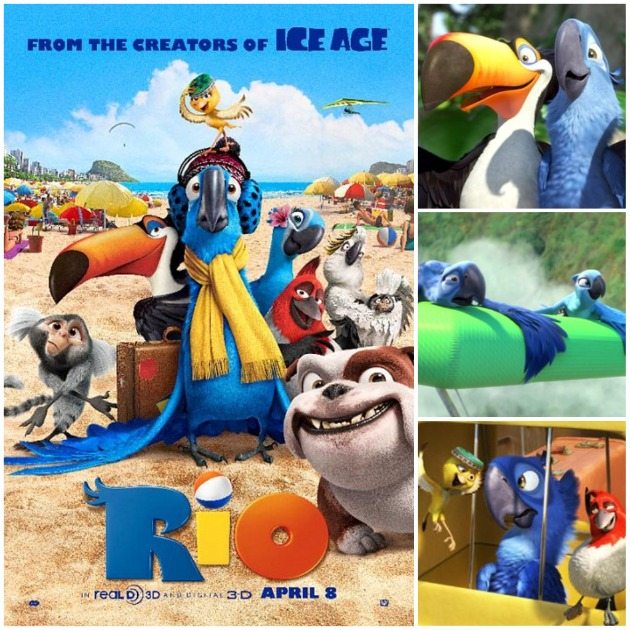 Facts.
Cast: Anne Hathaway, Jesse Eisenberg, George Lopez, Leslie Mann, Rodrigo Santoro, Jamie Foxx and Will I am
Director: Carlos Saldanha, known for the Ice Age movies
Duration: 96 minutes
Rated: PG
Random quote: "Ha-ha! I like you, nothing you say makes any sense!" – Rafael (George Lopez)
The plot.
Blu is a Blue Macaw who was taken from Rio's rainforest when he was a baby. He was found by a little girl named Linda in the snow in Minnesota. She took care good care of him and Blu has been her best friend ever since. They do everything together and Blu hangs around in Linda's bookstore where she works as well. Blu is kind of a nerd-bird. But most importantly Blu has not learned how to fly. He tries to fly with the help of equations of mathematics but it doesn't do him much good. One day an ornithologist comes to Minnesota to get Blu to come with him to Rio De Janeiro because they believe that Blu is the last male of his species and they have found a female in Rio too, so there are hoping for those two birds to get together and mate so they can save the Blue Macaw species.
My opnion
It's been a while since I've been this crazy about an animated movie but I absolutely loved this movie!  I've seen it about five times already I really like it. The actors who were chosen for the characters voices are perfect and the music in this movie is AMAZING. I guess I may have a thing for South American tunes but still… Who can resist Sergio? The storyline is really good and it gives an awareness to the endangered species too. I am not all to surprised about the ending but in a movie like this, knowing the ending doesn't matter at all. It's fun, cute and pretty to look at. The animators really did a swell job. It is certainly captivating 🙂
Watch it if…
You like animated movies. If you don't well then this is clearly not for you 😛 If you liked the Ice Age movies you will quite possibly like this as well since its from the same director! This movie is great for kids as well and for adults. It has humor, romance and good music. For a night in I would definitely recommend this or if it's still in the cinema around you. This movie will make you feel good and you will have a good time watching it.
~
I'd rate this movie: ★ ★ ★ ★ ★ ★ ★ ★ ★ ★ 10/10
~