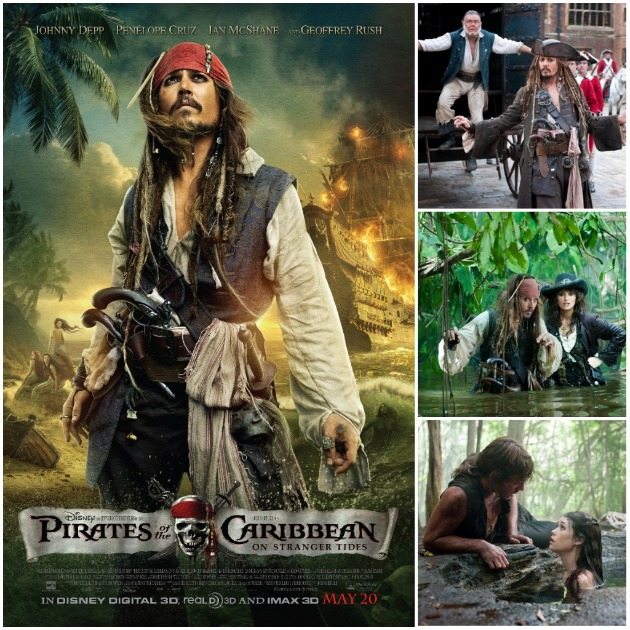 Facts.
Cast: Johnny Depp, Penélope Cruz, Ian Mcshane, Geoffrey Rush and Kevin Mcnally
Director: Rob Marshall. He is known for directing "Nine", "Memoirs of a geisha" and "Chicago"
Duration: 137 minutes
Rated: PG13
Random quote: "You seem somewhat familiar. Have I threatened you before?" – Jack Sparrow
The plot.
Once again we meet the wonderful and witty Jack Sparrow and this time he is on a quest to find the fountain of youth (and the Black Pearl). But there are others who wants to find the fountain as well. The English king tries to persuade Jack Sparrow to find the fountain for him before the Spanish king finds it. With Barbossa helping the English king to search for it and the Spanish king's fleet on the quest for the fountain as well AND the notorious Captain Blackbeard, Jack finds himself in the middle of their battle/quest and he must do what he can to survive.
My opinion.
I didn't expect much out of this movie since it is a fourth movie. I was a little hesitant to watch it at first but because I am a huge Johnny Depp fan I simply had to and I do not regret it. I was wrong to not expect much out of it because it is a great adventure movie! What I think makes it so great is that it is a new quest, a new story and has new characters (and some of the old). At first I thought using Penélope Cruz as a pirate would be odd but it works really well and she is great in her role, that was extremely positive. Jack Sparrow is just  as we all remember him, charming, funny, weird and stupidly smart! I really enjoyed the mermaid scene it was very well made and it really makes you rethink mermaids. To me mermaids has always been kind and beautiful creatures but here they are vicious! Which I guess is the real lore about them. I laughed a lot as well since it has plenty of humor and  of course action too. There wasn't as much 'sea' action as there has been in the previous movies, but I personally did not mind that.
Watch it if…
You want a good time at the movies. If you like Johnny Depp you will love this movie and if you liked the other Pirates Of The Caribbean movies you should give this a try too. But be aware that Kiera Knightley and Orlando Bloom are NOT in this movie and if you think you'll be seeing their romance again you are in the wrong. However there is romance in this movie too so don't worry if you are into that, you'll get too see some. I think this movie is for everyone who likes adventure, humor and Johnny Depp 😉
~
I'd rate this movie: ★ ★ ★ ★ ★ ★ ★ ★ ★ ★ 7/10
~