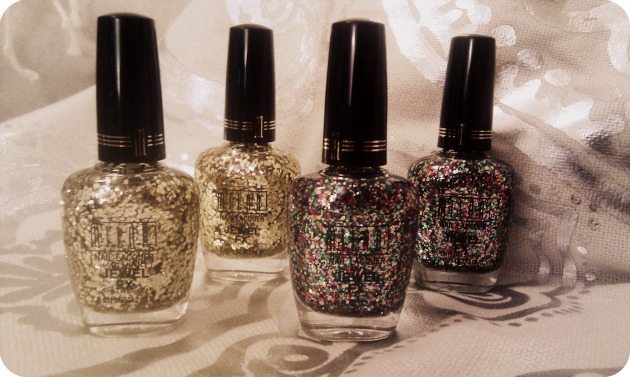 My new glitter nail polish – Can you guess why I have two of each?
❤ 01. It's been a busy couple of weeks with the Birthday planning and a lot to do in school. Now I'm off for a week however, I have to assignments to write. One which is really killing me because I loathe the subject… Luckily I'm meeting my study group today where we are going to debate "how to handle this assignment" and I must say I'm looking forward to their input!
❤ 02. Did I tell you guys that I got a job? I did. At the moment I'm working as a fundraiser! I didn't know what to expect from it but the team are so kind and it is all for a good cause. So all in all I'm happy there. I must admit it is a little challenging to get used to "fundraising" but I like it. At the moment we try to fund raise for the people who are suffering with the horrible illness MS.
❤ 03. I've begun baking/making cupcakes! I really like making them and try to make them pretty with some awesome frosting and I am getting a lot better at it. I wish I had more time to bake but I don't. Many might think its dangerous to bake a lot anyway since you might end up eating it all yourself haha. I don't tho' because I actually don't like cakes and muffins all that much it's too much sweet stuff for me. I'm a salty-kind-a-gal' give me some popcorn with salt or chips and I'm good to go! What do you prefer sweets or salty things?
❤ 04. I've got a surprise for you guys by the way! A couple of weeks ago I was talking about getting some glitter nail polish and I decided to order the perfect one online from the states! And I ordered four. Two of each, which leaves me to say that I will host a give-away VERY soon! Probably after this week when I've written my assignments.