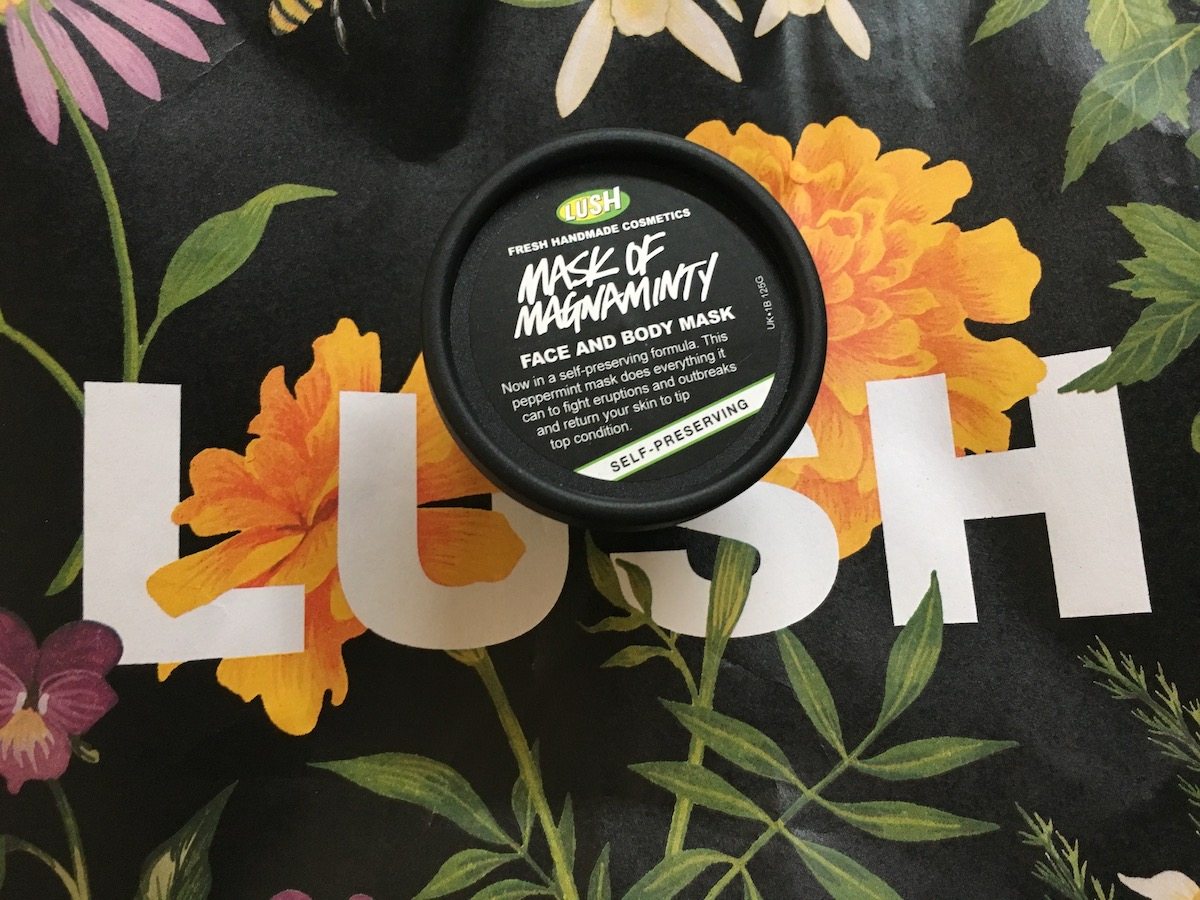 ---
L U S H
---
Whenever I'm in England I always have to swing by a Lush store. If you don't know what Lush is then let me tell you. Lush is an English cosmetics company, which by now has stores in many countries. Sadly not in Denmark (I did talk to someone from Lush who said they will open a store here one day though). I didn't know about Lush's story until I started writing this post actually. Did you know that the people behind Lush actually sold their recipes to The Body Shop!? I didn't, but you can read their entire history here. Lush's products are always freshly made and with as little preservatives as possible. Their packaging is 100% recycled plastic and they do not do animal testing. All in all they tick a lot of the boxes that are important to me.
The Haul
My roomie started using the Mask of Magnaminty last year. It smelled really good but I didn't consider trying it. It wasn't until I saw how her skin changed after some months of using it. It really helped calm her blemishes. I was 100% determined to get my hands on the mask too to try it out next time I was in England. I am aware we all react differently as we all have different skin, but I figured it would be worth it if it could help calm my breakouts. Whenever I get breakouts, they tend to last quite some time and it's always on my chin (which is mainly due to hormones). So if this product can help calm it, it's worth my time! I've been using it for three weeks once in a while now, and so far I love using it. It smells minty and fresh, it feels amazing and I always feel very clean after using it. I would need to use it longer to really see a big difference. I'll do a review in a few months time!
Another product that's completely new to me is Lush's Tea Tree Water. I'm not new to tea tree oils, I've used that before to spot treat blemishes. And I figured I'd use this in the areas on my face that are blemish prone. Time will tell if it'll work. If anything, it's always nice to have some antibacterial products. I've only tried three different shower gels from Lush; Snow Fairy, Rose Jam and The Comforter. The latter has one of my favorite scents. Mostly because it reminds me of a Danish ice-lolly named 'Kungfu is'. I'm currently using the last bit of Snow Fairy, before I'll start using The Comforter.
I have been using the body scrub Rub, Rub, Rub Shower Scrub for a few years now and I absolutely love it. So naturally I had to re-purchase it! It is honestly the perfect body scrub and it smells… well.. Lush! It's definitely a staple of mine. One last thing I bought from Lush, which isn't pictured, was a lip scrub. I stood for a while and sniffed the various lip scrubs until I decided to go with the Bubblegum Lip Scrub. I almost picked the Honey one but I decided it would be more fun with a pink scrub, and also it smells nice. I've never used their lip scrubs before, but I figured that if I love their body scrub why wouldn't I love their lip scrub. I've been using it once a week for three weeks now.