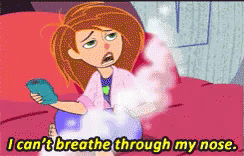 It really came out of nowhere. No idea where I 'caught' the virus or bacteria or whatever it is. But overnight from Tuesday to Wednesday *BAM* I woke up with a cold. And today it's no better, not muuuch worse either a part from I this morning woke up with a sore throat too. Oh I really hope it goes away soon. I had plans this weekend which I'm no longer able to do, at least not all of them. I was supposed to bake cookies with my sister… And that is NOT gonna happen. Just imagine all of my germs on those cookies haha. ICK!
Anyway, I just felt like complaining and also giving a little update. On a more positive note I have been enjoying opening my advent calendars. I've got a lovely one from my mom and one from my bae Maiken. ?
I hope you guys are having a better week ✌️?