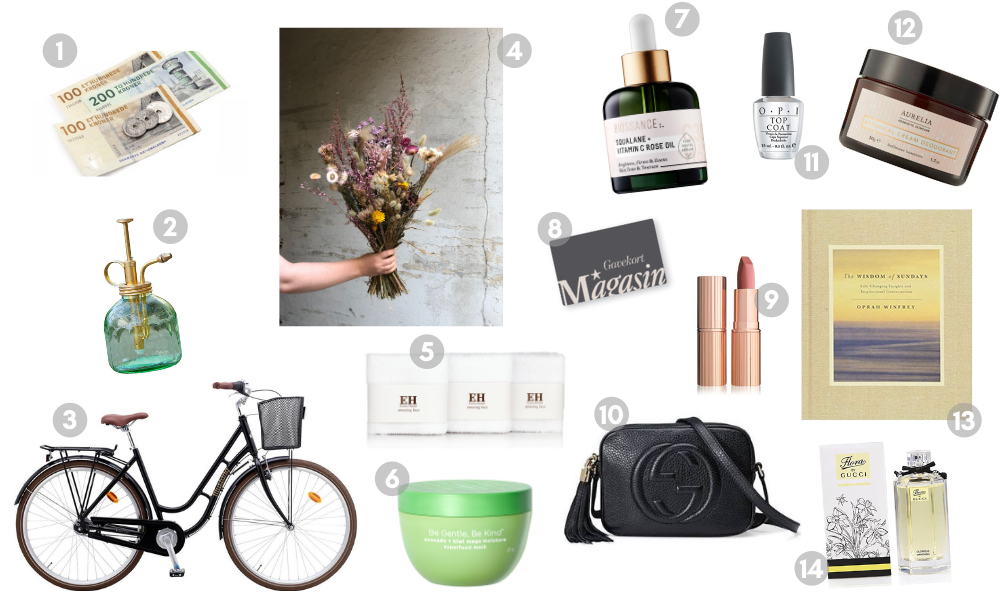 This year I wanted to make a more visual wishlist and as such I decided to created the above collage of items I'd love. Some of you who knows me well will recognise some items as they are have appeared on my list before. A part from the items on my wishlist above I also always wish for an experience (e.g. restaurant, museum, cinema and so on with a friend), or anything else my loved ones think I need/should have ? ?
Wishlist anno 2020
I'd love to get some cash to contribute to a new bike as mine has retired after 15 years of good service.
Some of my plants need a good spray so I've found two water misters (are they called that? ?) that I like here and here.
This is the bike I mentioned I'd use the cash for, figured it should be on the list too.
Dried flowers are gorgeous and I'd love a bouquet as they basically last forever.
I love these cleansing cloths from Emma Hardie and I could use a few more.
This hair mask from Briogeo is supposed to be amazing!
Squalane Squalane Squalane I need this serum ?
A girl can always use a gift card to Magasin.
I am literally down to the bottom of my current Pillow Talk lipstick, I really want a replacement!
This 'Soho' bag is rather expensive, but it's such a beauty ? and my current black medium sized go-to bag is rather worn!
I would love a new top coat as mine is empty, I don't care what brand it is, as long as it's a top coat.
You'll often find my current favorite deodorant on my wishlist as I frequently run low!
I'd love to read the book "The Wisdom of Sundays".
This Gucci perfume is an old favorite of mine, and unfortunately also discontinued but I did find it on ebay and on dba and would love to have a new bottle of it.
Not on the photo above but I could sooo use a small lazy susan for the fridge!